Farm Tours
This years' prestigious Beef Expo industry Farm tours are set to be bigger and better than ever three fantastic beef farms selected to host across Shropshire and Wales.
In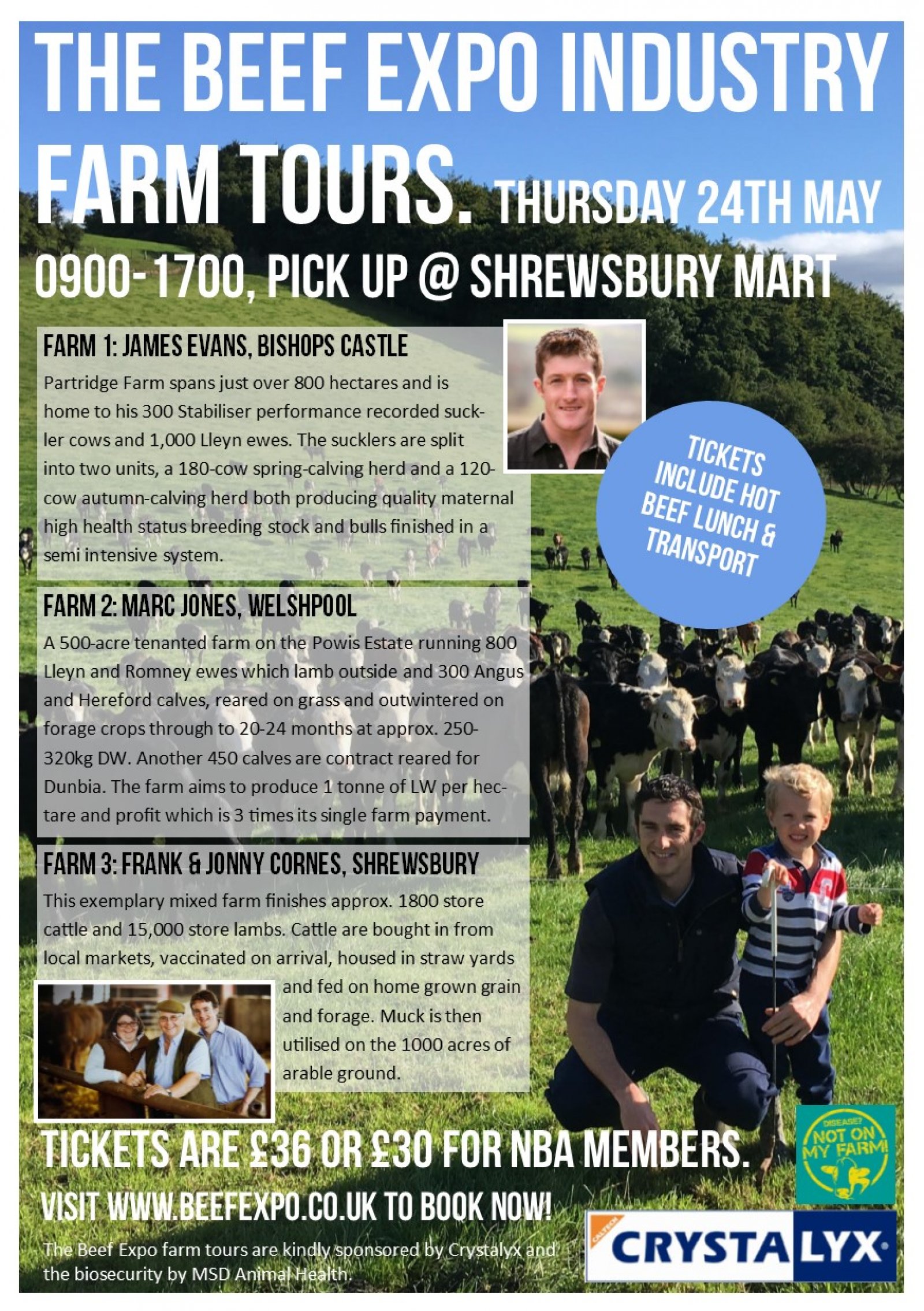 line with the event theme 'Beef Up Our Future', these exceptional farmers have been chosen as they have all adapted their farm business models to create a more profitable and sustainable future for their farms.
This year the farm tours will also host several short technical talks from the host farmers and industry professionals. This forum for knowledge exchange has sold out for three years running and is not to be missed - early booking is highly recommended!  
Buses will pick up visitors at 9am from Shrewsbury Livestock Auction Market (Postcode: SY4 3DR) and return before 5pm. The farm tours include a hot beef lunch, with tea coffee and cake and a goody bag including farm tour guide, snacks and promtional material. The farm tours are kindly sponsored by Caltech Crystalyx and the biosecurity by MSD Animal Health. 
Industry experts lined up to deliver short talks on topics from calf rearing to beef finishing systems and advances in all aspects of production from health to genetics.
Partridge Farm, Bishops Castle
James Evans will showcase his 300 head Stabiliser performance recorded herd of suckler cows, on a tractor and trailer ride around the farm. Here visitors will get an overview of James farm business consisting of two units, a 180-cow spring-calving herd and a 120-cow autumn-calving herd both producing quality maternal high health status breeding stock and bulls finished in a semi intensive system.
James Daniel, founder of Precision Grazing will host a short talk and explain the increased performance that can be achieved from better managed grassland and the Kiwitech grazing system on the farm. This year Partridge Farm has converted to an organic system, but by implementing the precision system the farm is predicted to grow more grass than when bagged fertiliser was used, achieving growth rates of 1.6k/g for young bulls.
David Alvis Managing director of the Stabiliser Cattle Company, will be hosting the second short talk on the value of measuring performance to calculate EBVs and using these to make informed breeding decisions in suckler herds. The cattle companies new Profit Index has ta ken this one step further putting a monetary value on improved genetics.
Trefnant Hall farm, Welshpool
Marc Jones to will run a tour of his 500-acre tenanted farm and explain its transformation from a traditional suckler farm which relied on subsidies to a modern farming business which now aims to produce 1 tonne of live weight per hectare and profit three times its single farm payment.  
Marc has diversified into rearing native cross calves through to finish on grass through the summer months and forage crops over winter. Clive Mahony, Ruminant Marketing Specialist for Meadow Quality who supply the calves will talk on the topic 'Beef beyond Brexit' focusing on the value of integration in the supply chain as we look forward to the future.
Marc also contracts calves for Dunbia. Ryan Law, Agricultural Research Manager for Dunbia will be on hand to talk about the specialist system and the importance of managing environment, health and nutrition simultaneously to maximise production and profitability.  Steve Glanvill a practising vet from Hook Norton Veterinary Group will narrow in on pneumonia management in a final short talk.
Lythwood Farm, Shrewsbury
Jonny Cornes will welcome visitors to Lythwood Farm giving an overview of his families exemplary mixed farm just outside Shrewsbury. Here he finishes approx. 1800 store cattle and 15,000 store lambs and managed his 1000 acres of arable ground.
Chris Mallon, Chief Executive of the NBA will speak to visitors about the value of mixed farming systems such as Lythwood farm have in moving towards sustainable and healthy soils. He will also talk on the importance of approved finishing units for the continuation of production and supply. Both topics are of high importance to the NBA with the organisation pushing for their inclusion in the future agricultural policy.
Simon Marsh, Principle Beef Lecturer at Harper Adams University will also be based at the farm throughout the day running short talks on beef finishing systems and nutrition and the recent findings from the beef efficiency trials conducted at HAU's research facilities in Newport, Shropshire.
Bookings can be made online, farm tour tickets are £30 (inc VAT) for NBA members and £36 (inc VAT) for non-members and are inclusive of all transport from Shrewsbury Auction Mart and a hot lunch on farm.

Sharden Herefords additional tour - Wed 23rd May
A fourth farm tour will be taking place on Wednesday 23rd May for the 90 Northern Irish farmers visiting for their annual three-day trip. Moor Farm is a fantastic example of a modern family business which has diversified in more ways than one and created a niche market for their award winning herd of Hereford Cattle.
Moor Farm is a not so traditional mixed farm based in Baschurch, Shrewsbury, home to Mike and Hazel Timmis and their daughter's families and the Shraden Hereford herd. Established in 1919, the herd which will be celebrating its 100th year in 2019 now consists of around 170 cattle including 65 breeding cows.
As the Sharden herd is such an old and renowned one, celebrating its 100th year next year, the NBA are offering 30 tickets for Hereford Cattle Society Members (on first come, first served basis) who wish to join the tour.
The tickets are priced at £15 and include a hot beef lunch featuring delicious Hereford Beef from Moor Farm Shop. To book your place please contact NBA head office on 01434 601005 or email beefexpo@nationalbeefassociation.com.

NBA Beef Industry Dinner - Thurs 24th May
The NBA Beef Industry Dinner Dance will be held on the evening of the 24th May at the renowned Netley Hall Estate in Shropshire (Postcode: SY5 7JZ)
The dinner will include a drinks reception at 7pm, three course dinner with wine and after dinner band and dancing. The delicious beef for the dinner is kindly sponsored by ABP.
The ultimate networking event for all in the British beef industry. 
Dinner tickets are £54 or £48 for NBA members and can be bought in our online shop.