From Humble Beginnings Comes the Perpetual Ghyll House Trophy
24th June 2022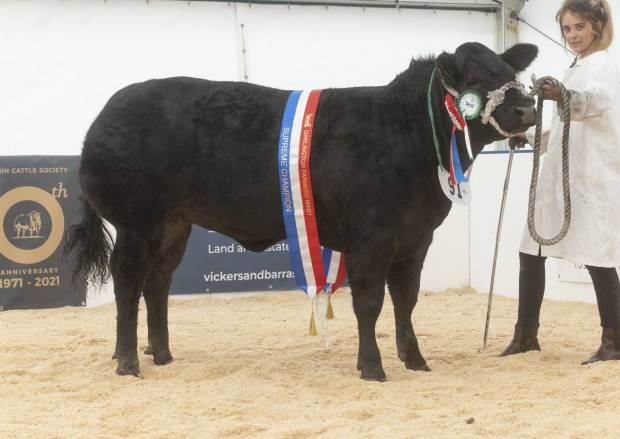 Sibling duo B & L Wilkinson who run 20 head of cattle on 25 acres take Supreme Champion at 2022 Beef Expo with homebred heifer, Maggie.
This year's NBA Beef Expo winner comes with a slightly different backstory to normal which proves that great things really can come from humble beginnings. Beth Wilkinson wowed judges at this the UK's only dedicated beef industry event held at Darlington Farmers Auction Mart in May. The 23-year-old beat competitors to the top spot with homebred 15-month-old Limousin X heifer, Maggie, owned by Beth and her brother, Luke (21).
Beth was presented with the inaugural Perpetual Ghyll House Trophy which was kindly donated by the Richardson family in memory and recognition of showing stalwart Hannah Brown following her untimely death last year.
The operation at Ivy Farm near Leyburn, Richmond, is a real family affair with parents James and Rachel still playing a leading role at home. The farm is more of a hobby for the Wilkinsons who all have full time jobs away from the farm. The siblings were introduced to showing at a very young age by Dad, James, who first took to the showring back in 2005. They set out by taking part in numerous Young Handler classes to learn the ropes. Now Beth and Luke have taken over the reins and do the majority of the showing themselves, as well as show preparations, whilst James takes more of a backstage role at home.
Ivy Farm is a small herd with just 20 head of cattle, split 50/50 between commercial and pedigree. At home, the Wilkinsons have 15 acres of grassland with just one shed and rent a further 10 acres nearby. The herd was established very much in the commercial camp by James and Rachel, but in 2018 Beth and Luke purchased their first pedigree Limousin. After a successful showing career, the heifer was flushed, and embryos transferred. One of her first embryo calves sold for an impressive £17,000 and this cow is the foundations on which the herd has been developed.
"The aim is to move towards increasing pedigree numbers in the future," explains Beth. "Currently all our pedigree stock is from that one cow which is shared with John Smith-Jackson."
Maggie (by Truman Idol) is the third calf out of an outstanding cow known as Millie, who back in 2016 took Reserve Champion at the Great Yorkshire Show, Countryside Live, the English Winter Fair and the East of England Show. "Millie gave us a really good year on the showing circuit and her first two calves were also very successful," says Beth. "Maggie is the third calf we bred from Millie, and she has definitely been the best so far."
Millie was in fact the animal that put the Wilkinson name on the map quite early on in Beth and Luke's showing career. A homebred heifer, she was the first one that was in the running at the big shows and to this day is still one of the Wilkinson family's showing highlights.
Maggie was born in March 2021 and secured her first red rosette at the English Winter Fair as a calf in November last year. NBA Beef Expo was her first outing of the 2022 season and to kickstart with such a high is an incredible achievement for Beth and Luke.
"It's just a brilliant feeling," Beth adds. "To win Supreme Champion at such a renowned show is amazing, but to do it with a homebred heifer is the icing on the cake. Knowing you and your family are solely responsible for her breeding, how she looks and how she is presented, is something we are all very proud of. It is also a real honour to be the first to be presented with the Ghyll House Trophy in memory of Hannah Brown."
Next on the cards for Maggie is a trip to the Great Yorkshire Show in July followed by the British Limousin Cattle Society 50th Anniversary Show in Carlisle. She will then be given a break before appearing at the Wilkinson's local Wensleydale Agricultural Show at the end of August.
Once finished showing, Beth and Luke plan to flush Maggie for embryo transfer and put her in calf, hopefully to produce the next generation of Ivy Farm champions.