NBA Board Members
Chair of the National Beef Association
David Thomlinson
David is a director and senior auctioneer at Harrison and Hetherington who was elected to the NBA board of trustees in 2012. He is also the chair of the NBA Policy Committee and the Northern Region.  He has been a member of the NBA since its inception. David was awarded the prestigious 2011 Blamire Award and has helped shape NBA over a number of years, particularly in the regeneration of its Northern sector.
Tel: 0780 267 5799
Vice-Chairman NBA
John Vanstone
John has been a member of the NBA for numerous years and a member of the Board for five years.  John is a first generation farmer who began in 1977 with 12 ewes and has since expanded to an all organic, 350 acre farm. He is currently changing his suckler herd to Stabiliser's and has signed up to become a multiplier. He also owns a flock of Lleyn and Lleyn Cross sheep.
NBA Treasurer
William Walton
William, a member of the NBA, is the third generation of the Walton Family to have farmed Penpeugh Farm at Bardon Mill near Hexham in Northumberland. William's role will be to represent the North East region for the NBA, and as a board member he will be a voice for the industry and contribute to the board and their decision making.
Northern Ireland NBA Board representative
Ernest Ritchie
Ernie is a second generation farmer from County Down. He runs a 150 head commercial suckler herd.  He has been a member of the NBA for a number of years and is currently the Northern Ireland Treasurer as well as representing the Northern Ireland region on the Board.
Technical/Education NBA Board representative
Simon Marsh
Simon comes from a north-east Lancashire  farming family. In his current post at Harper Adams University he has responsibility for all beef production teaching as well as research on the Universities bull beef unit and suckler Beef Focus Farms. Simon is also one of the judges for Beef Farmer of the Year for The Farmers Weekly.
SBA NBA Board representative
Scott Henderson
Scott  a member of the NBA for a number of years, has built up the family farm with his brother and they now run a herd of 450 beef cows and a 450 ewe flock with the help of their two sons.  Their main enterprise, however, is finishing around 1800 cattle annually.  Scott has been a Member of the QMS Cattle and Sheep Standards Committee and has served as Chair of the Scottish Beef Association.
Midland NBA Board Representative
Andrew Laughton
Andrew Laughton's family have farmed in the Louth area for more than four generations, He finishes up to 6000 animals outside every year.
One of Andrew's 'passions' is to work closely with the environment, ensuring that soil health is improved for future generations to enjoy.  
He is aware that there are challenges ahead within the political arena.  He believes that the beef industry, must maintain their points of difference against cheap imports  –  the hormone issue for example, and push home the fact that UK health and welfare standards are some of the highest in the world.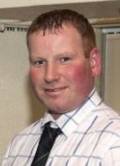 NBA Board Member
Adam Watson
The Watson family moved to Sanders Close, Slaggyford, Brampton in the late 1960s.  Sanders Close is a hill farm which is home to the Saunders pedigree Limousin herd and 900 Swaledale ewes.
Mr Watson believes there is solid long-term future for livestock farming in upland areas helped by environmental payments but a key issue is encouraging and keeping young people in these areas.
Chief Executive of the National Beef Association
Chris Mallon
Born in County Armagh, Northern Ireland, Chris has a master's degree in Animal Production from Aberdeen University.  He now lives in Edinburgh. Chris has been Chief Executive of the NBA since 2012 and has taken a major role in the restructuring of the organisation.
Tel: 0757 900 9648