NBA Board Members
Chairman of the National Beef Association
Andrew Laughton
Andrew Laughton's family have farmed in the Louth area for more than four generations, He finishes up to 6000 animals outside every year.
One of Andrew's 'passions' is to work closely with the environment, ensuring that soil health is improved for future generations to enjoy.  
He is aware that there are challenges ahead within the political arena.  He believes that the beef industry, must maintain their points of difference against cheap imports  –  the hormone issue for example, and push home the fact that UK health and welfare standards are some of the highest in the world. 
NBA Treasurer
William Walton
William, a member of the NBA, is the third generation of the Walton Family to have farmed Penpeugh Farm at Bardon Mill near Hexham in Northumberland. William's role will be to represent the North East region for the NBA, and as a board member he will be a voice for the industry and contribute to the board and their decision making.
Northern Ireland NBA Board representative
Ernest Ritchie
Ernie is a second generation farmer from County Down. He runs a 150 head commercial suckler herd.  He has been a member of the NBA for a number of years and is currently the Northern Ireland Treasurer as well as representing the Northern Ireland region on the Board.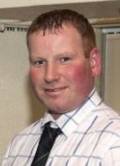 NBA Board Member
Adam Watson
The Watson family moved to Sanders Close, Slaggyford, Brampton in the late 1960s.  Sanders Close is a hill farm which is home to the Saunders pedigree Limousin herd and 900 Swaledale ewes.
Mr Watson believes there is solid long-term future for livestock farming in upland areas helped by environmental payments but a key issue is encouraging and keeping young people in these areas.
Chief Executive of the National Beef Association
Chris Mallon
Born in County Armagh, Northern Ireland, Chris has a master's degree in Animal Production from Aberdeen University.  He now lives in Edinburgh. Chris has been Chief Executive of the NBA since 2012 and has taken a major role in the restructuring of the organisation.
Tel: 0757 900 9648