Delightful Day for Daisy in Derbyshire
24th May 2016
Region: National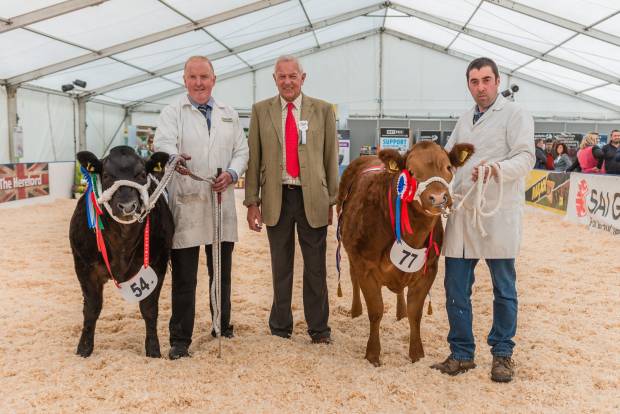 Derbyshire Hosts a True Celebration of British Beef at the 2016 NBA Expo with Daisy Duke a Limousin Cross Heifer scooping Supreme Champion
Held at the Bakewell Agricultural Centre, and hosted by the National Beef Association (NBA), Beef Expo 2016 attracted in the region of 8,000 visitors for what had been hailed as a "Celebration of British Beef".  
This, the British beef industry's major annual event, highlighted the diversity of British beef to consumers, and showcased the finest of British pedigree and commercial cattle,with Welsh Heifer Daisy Duke winning Supreme Champion.
Pride in excellence was demonstrated at all levels, from the farmers opening their gates for farm tours, to the nation's champion beef showcased by both pedigree and commercial livestock breeders.  Seminars on key livestock topics pulled in the crowds, and demonstrations and trade exhibitors showcased the latest industry information.  The younger generation was present in force, competing in stock-judging and beef farmer challenges, and demonstrating that they are more than able to take the industry forward in the future. 
Being held in a renowned beef production area, and in one the UK's Leading Livestock centres, Beef Expo featured over 120 head of show cattle, 21 breed societies displaying around 150 cattle, 140 trade stands and attracted visitors from across the UK and Europe.  These included a party of farmers from Northern Ireland and a European delegation who attended specifically to see the best of British beef cattle and genetics - with a particular focus on Longhorn, Aberdeen Angus, Charolais, Galloway and Wagyu.
Discussing the day's successes, Alastair Sneddon, NBA Beef Expo 2016 Senior Partner of Bagshaws, said:  "Today has been an excellent display of the British beef industry, and I would like to thank everyone involved for their input.  A tribute must go to Chris Mallon, Chief Executive of the NBA, who managed to secure the exemption license for the Spring Spectacular show."
"We are delighted to be able to facilitate the event here today, and I think with the Beef industry in its currently troubled state, it is even more important that people to come together, talk through some of the issues, possibly gain knowledge that is going to help them in some way, and furthermore, have the opportunity to harangue potential villains of the piece in an open forum," continues Alastair, "I think that it is important  that those at the top of the industry, whether it be in regulation or in terms of processing, are able to receive from the grassroots farmer his real opinion whether they wish to hear it or not." 
A strong showing of native and continental cattle impressed a packed ringside in the National Spring Spectacular Show (NSSS).  Wales provided a dominating presence gaining many first prizes, and Supreme Champion was awarded to Welsh Heifer, Daisy Duke.  Owned by John Williams, of Gwyneddn, and bred by Stephen Nixon, of Cumbria, the Limousin x British Blue x heifer, born May 2015, weighed in at 450kg.  Hightown Girl, owned by Tecwyn Jones, of Llanrwst, was reserve.  This home-bred Limousin-sired heifer whose mother, Black Beauty was a multiple champion was having only its first outing. 
Steer Champion was Dolphy Duke who is owned by Andy Nichols and his son, Will, from Wetley Rocks, Stoke-on-Trent.  The 12-month-old was bred by Rob Jones, of Builth Wells.  Reserve Steer Champion went to Elfed Williams of Sennybridge, Powys, with a May 2015-born, British Blue x named Sunny Bill.   
Evita, a September 2014-born, Beef Shorthorn x heifer was Native Champion, bred and owned by R. Arfon Jones, Anglesey.  Reserve went to Rock On Ruby, a sixteen month old Galloway x steer, bred and owned by Neil Slack, of Penrith.
Lincolnshire Judge, Phil Sellers, said: "Today it has been fantastic to see such a tremendous line up of stock.  I have been judging the cattle on Show and Style, whilst looking for modern day cattle for today's consumer.  These cattle today are the future of the industry.
"In choosing the Champion, I was looking for animal with style, movement and good on its legs.  Daisy Duke has very good conformation and top line.  She just glided around the ring."
Read All About it, a 375kg Limousin x heifer, owned by Elfed Williams, who bought it for a record breaking £7900 at Ruthin earlier this year, and bred by Wendy Morgan was Baby Beef class Champion.  In reserve was the Aberdeen Angus sired, July 2015-born heifer, Black Berry, from Robert Elias and daughter, Sioned, from Garndolbenmaen, Gwynedd.  Bred by Berwyn Hughes, Lampeter, it weighed in at 355kg.
The judge, Christine Williams from Shifnal in Shropshire, said. "This champion had phenomenal width and power and was good on its legs but yet still maintained its femininity."  
For many, one of the highlights of their trip to the Derbyshire Dales and the Peak District National Park was the farm tours.  This area is one of the most central and stunning locations in the UK, and provided a backdrop for the tours to Chatsworth and Haddon Estates.  Those on the tour visiting Simon Frost's herd of Limousin Cross cattle were given detailed background information on the importance of ease of calving and speed of growth for maximum profitability.
The seminars were exceptionally well attended, and the seminar on TB issues presented by Defra vets Malla Hovi, Head of Veterinary Advice to the Defra TB programme, and Susanne Frost, Veterinary Advisor for epidemiology for the Midlands, gave farmers the opportunity to hear the latest information on the government's policy and long term plans.  The seminar on the national BVD-free strategy for England was presented by Derbyshire vet, James Russell, a director of McMurtry and Harding, who sits on the expert group.
As always the next generation was well represented and encouraged to participate in competitions.  The Young Farmer's Open Stock-judging competition attracted entries from individuals, regional young farmers' clubs and agricultural colleges.  A challenging role for the judge, Laurie Ibbotson from Dovecote Park, was able to announce the winner as a Joint First – Alex Birch, of Bakewell YFC and Will Rogerson, from Newton Rigg College.  Joint second went to Katie Brian, Worcestershire, Jack Baldwyn, Newton Rigg and Charles Hodgson, Reaseheath College.  Joint third prizes went to Matt Kidd and Rebecca Ellwood, Newton Rigg College.
The Young Handler Classes 12-16 years old was won by Matthew Clark, and the winner of the Young Handler Classes 17-21 years old was awarded to Emma Rathbone from Wetley Rocks, showing Queen Bee.
The second Future Beef Farmer Challenge (FBFC), run in association with AHDB Beef and Lamb, Carrs Billington, XL Vets, and the Derbyshire Federation of Young Farmers Clubs, attracted several individual entries, and 17 team entries.  Included were teams from Newton Rigg, Askham Brian, Harper Adams and Bishop Burton Colleges and various young farmers clubs.  Testing the knowledge of breeding and genetics, cattle health, nutrition and cattle selection for slaughter the FBFC is becoming a key part of the event and was closely contested by highly competitive young beef farmers.
Winning the individual prize and taking home the Frank Momber Perpetual Trophy was 24 year old Katie Jones from Bond House Farm, Horton in Shropshire.  Second went to Peter James and third to Alistair Bland. 
In the Team challenge, battling it out for the Duke of Northumberland trophy, Newton Rigg teams one and two were pipped to the post by winner of last year's individual competition, James Bonner from Northampton and competitive partner, James Ashby, a stockman for The Adams family near Watford.
After being presented with his trophy by Local MP and Cabinet Minster Patrick McLoughlin, James Ashby said, "The future Beef Farmer Challenge is an excellent way to test ones knowledge and to put to the test the practical skills we complete on a day to day basis. "
With a growing focus on health and welfare, and an expanding consumer market, demand for organic produce is growing.  Through live demonstrations and presentations a specific emphasis of the 2016 NBA Beef Expo was dedicated to the beef from the dairy herd and organic beef.  Both attracted considerable interest from farmers across the UK looking for ways to diversify and increase their beef production margins.
The 'Story of British Beef' showed the links in the chain, quite literally from field to fork and was well attended by both farmers and the general public.  The chain started with a display of beef cattle, followed by butchery demonstrations carried out by multi award-winning Derbyshire butcher, John Mettrick, one of only 10 Master Butchers in the UK, and finished with different cuts of beef prepared by Chef's from the University of Derby in a series of cookery demonstrations.
This annual event is kindly supported by mainline sponsors; Farmers Guardian, Caltech, Dunbia and AHDB Beef & Lamb, as well as Derbyshire Dales DC, Bagshaws and Bakewell Show. 
The trade stands represented all sectors of the beef and associated farming industries, from breeding and genetics, to equipment manufactures and feed and nutrition. 
Scooping up best indoor trade stand was Dennis Brincombe, with Carrs Billington second, and the British Wool Marketing Board third. 
Pharmweight Ltd. was highlighted as the best outdoors trade stand, with Peter Rhodes Feed Services taking second and Kelvin Cave Ltd. third.
Best Large Breed Society Stand was awarded to The Hereford Cattle Society, with The Aberdeen Angus Cattle Society placed second and the Charolais and Limousin Cattle Societies joint third. 
The Best Small Breed Society Stand was The White Park Cattle Society, with second going to the Sussex Cattle Society and third the Piedmontese.
Commenting after the event Chris Mallon, Chief Executive of the NBA said: "NBA Beef Expo is without a doubt the greatest opportunity of the year for people in the industry at all levels to network, meet potential new customers and take home new ideas that can help to add to the bottom line, and in that, I would like to thank all of the speakers for their time and expertise, and sharing this with farmers across the UK."
The sun shone offering a splendid backdrop of the Peak District and farmers, who had travelled the length and breadth of the country, really were given a detailed insight into the farming practices and the great British beef industry.
-       ENDS -