Harper Adams Graduate Appointed As NBA Development Manager
12th January 2017
Region: National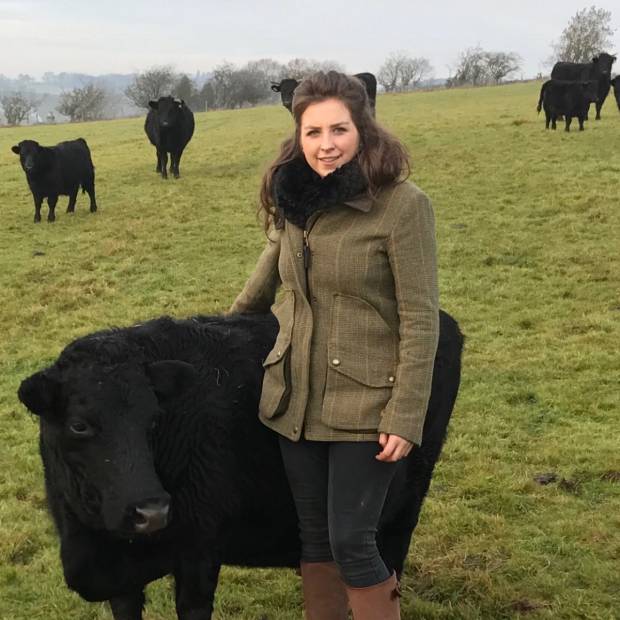 The National Beef Association (NBA) is pleased to announce the appointment of Rosie McGowan as Development Manager.  Two key elements of this newly created role will be to increase the organisation's membership and further develop the regional groups.
Rosie joins the NBA, following her recent graduation from Harper Adams University with a first-class BSc degree in Agriculture with Animal Science.  Rosie's passion for beef production began through running a herd of Dexter cattle on her family's smallholding in Northumberland, supplying their farm shop, beef boxes and a local pub.  On placement with 2 Sisters Food Group, Rosie gained experience throughout both red and white meat supply chains, working with supermarkets, auditing farms and helping in the development of calf rearing schemes.
On behalf of its members, the NBA is a charitable organisation which works tirelessly as the only dedicated voice for British Beef Farmers.  Since its inception, it has gone from strength to strength with its core aim remaining the same; to continually promote and support the UK beef industry at all levels.  
Commenting on her recent appointment, Rosie said:  "Having used the NBA website as a valuable resource tool throughout my studies, and attended NBA Beef Expo as a beef farmer, I fully understand the value that the Association has to offer the British beef industry.
"I am very excited to start work with the NBA, representing beef farmers and publicising the great work that the organisation is achieving.  I am also eager to begin recruiting a new younger generation of members to support the organisation and drive the beef industry into the future."
Rosie's growing interest in beef production throughout her studies led to her scooping up the Wynnstay Beef award for her research project 'Evaluation of feeding elevated levels of milk replacer on the health of artificially reared beef calves to 12 weeks', the results of which will be presented as a conference paper at the British Society of Animal science annual meeting in April.
On graduating from Harper Adams University Rosie completed three months in Western America, working on a number of grass fed beef ranches, gaining a greater knowledge of global beef production before returning to join the NBA team.
Chris Mallon, Chief Executive of the NBA said:  "We are delighted to welcome Rosie to the NBA team as Development Manager.  Her passion and enthusiasm for the industry is fantastic and I have no doubt that in her new position she will be a great ambassador and integral to our ongoing growth and development."
"As the voice of the British beef industry, the NBA is committed to providing a support network to our members, which is increasingly important at this uncertain time post Brexit."