'The sky's the limit' for NBA Beef Expo Farm Tour host
30th March 2017
Region: National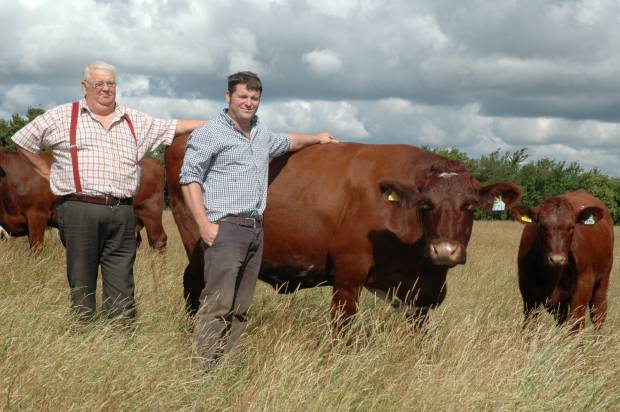 Roger and Tom Elliott are set to open the gates, of one of their farms located at Upper Heyford, to visitors as part of this years National Beef Association's Beef Expo farm tour's on the 17th May 2017. The father/son partnership has grown from small beginnings into a business that is profitable, sustainable and is continuing to expand with very little subsidy support. The mixed enterprise covers 1350 acres of majority rented parkland and pasture, and after spring calving, accounts for 850 head of cattle and followers along with the Elliott's flock of 700 pedigree and commercial sheep.
The Elliott's impressive family business originates from a small village abattoir and butchers. This background in butchery, understanding of cattle and meat quality has led to the creation of a flexible, market focused business producing premium cattle, heifers and bulls to sell on to pedigree and commercial herds (sold at farm gate) as well as high quality steer stores and finished cattle which supply into the premium Morrison's Shorthorn scheme.
The Elliott's run a high health status herd, running annual BVD checks on young stock and entering all pedigree cattle into the CheCS Health Scheme, which they intend to roll out across the whole herd. The suckler herd of 300 cattle consists of 100 pedigree Shorthorns, 80 pedigree South Devons and Saler crosses which are put to their Shorthorn, Saler and Angus bulls. Replacement heifers are selected based on their mother's fertility performance, longevity and calving ease. The heifer's temperament, growth rate, feet and legs are also taken into consideration.
Tom is always striving to improve the herd genetics by using Australian and American genetics and through selection of bulls within the top 10% bulls for milk, ease of calving and 200 day weights. This combination of maternal and bull selection has led to an impressive farm performance with 97% of calves born over a 12- week calving period and 96% of calves reared per 100 cows put to the bull. Weights of weaned steers average 375kg at 7-8 months whilst heifers reach 400kg at 15 months for bulling to calve before 2 years.
Commenting on his cattle Roger said "We have kept South Devon cattle for over 30 years due to their fantastic maternal traits and docility, more recently we bought a Beef Shorthorn bull for the heifers and we have really liked the calves that they produced. So, when an opportunity came up to buy a herd of Shorthorns we just couldn't refuse and have been very pleased with the results." "We firmly believe in native breeds. From our experience in butchery we believe too much emphasis has been put on conformation of cattle rather than eating quality. We aim to produce a premium quality product which gives our customers a great experience when they buy and eat our beef."
All cows and heifers calve away from the farmstead; therefore, it is vital that they can calve unassisted. To try to ensure this, 4 years ago, Tom introduced two Saler bulls to the herd. Chosen for their ease of calving, quiet temperament and strong maternal qualities, these bulls are used on heifers and young cows within the herd. The results have been successful, with many of the heifer calves retained for replacements.
When asked what the future of the herd was, Tom answered "The sky's the limit!".
This can-do attitude combined with excellent grass management and a passion for producing quality beef is what makes this enterprise so successful. Fertiliser is restricted to 200 acres which are mowed for haylage and hay while bought in feed is restricted to straw and high energy feed blocks. A high-quality calf nut is used to creep feed steer calves to maximise their potential growth rates.
Alongside the farming enterprise there is a butcher shop and a deli. Visitors on the farm tour will have the chance to sample some of the Elliott's delicious heifer beef. Prepared in the family butchers shop, cooked by Julie Turnham a local caterer and family friend, and served up on farm for their guests- it just doesn't get any better!
Tickets for the farm tours are priced at £30 per person and includes three farm visits, transport to and from the NAEC, Stoneleigh and hot beef lunch. A combined ticket for the Farm Tours and 2017 NBA Beef Expo for NBA members is £35, and for non NBA members is £40. Bookings can be made online, under the visitor section, or by contacting the NBA Head Office on 01434 601005.
Notes to Editor's: Organised by the National Beef Association, the Beef Expo is a key date in the Beef industry calendar.
Hosted by the NBA this year at Stoneleigh's NAEC on the 18th May the Expo will include The Commercial Cattle Show, the South Devons Championships, over 100 industry and educational trade stands, seminars, demonstrations, farm tours (17th May), beef industry dinner (17th May) and the Future Beef Farmer Challenge.
Trade stand applications, visitor tickets, farm tour tickets, industry dinner tickets and cattle show entry forms and future beef farmer entry forms are available online on the NBA Beef Expo website, www.beefexpo.co.uk, where further detailed information about the event can also be found.
Images and Logos can be requested from the Marketing and PR Manager.
CONTACT INFORMATION
For all Media and PR enquiries for Beef Expo please contact Tom Kinroy, Marketing and PR Manager Tel: 07738 229752 Email: [email protected]