Beef Expo 2018 Farm Tours - James Evans, Partridge Farm, Linley, Bishops Castle
13th April 2018
Region: National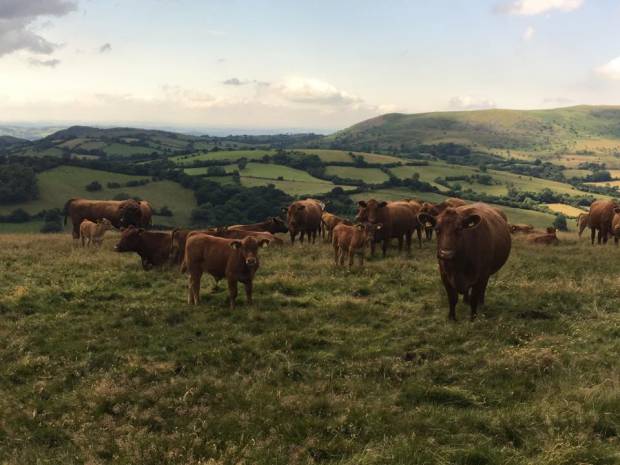 James Evans' Partridge Farm situated in Linley, near Bishops Castle spans just over 800 hectares (2,000 acres) and is home to his 300 Stabiliser suckler cows and 1,000 Lleyn ewes. The sucklers are split into two units, a 180-cow spring-calving herd (Partridge Farm) and a 120-cow autumn-calving herd (Walcot Farm) both producing quality maternal high health status breeding stock and bulls finished in a semi intensive system.
In 2007, James who farms in partnership with his brother Rob and father John, converted from traditional dairy cross sucklers to an all Stabiliser performance recorded herd, completely overhauling his beef enterprise. Performance recording was a key player in the decision to transfer to the breed. James believes strongly that beef producers should make use Estimated Breeding Values (EBVs), allowing them to identify animals that are truly genetically superior rather than relying on aesthetics which are often not directly correlated to performance.
As well as weighing cattle to calculate growth rates, James ultrasound scans all of his breeding stock to calculate their Muscle depth and Fat depth EBVs, and analyse the muscling along their loins, the most valuable area of the carcass. These values are used not only to indicate carcass quality of progeny but also to choose heifers on their ability to maintain body condition score (BCS) once mature.
The system is working well, James is currently achieving 95% of calves reared of cows put to the bull and his bulls are finished in 12 to  14 months at approx. 360kg. James has recently taken the step towards becoming organic and has invested in new equipment to convert to precision grazing, to make the very most of the farms pasture.
Speaking on the recent changes, James stated,
"Grass is often the most underutilized feedstuff on suckler farms. Having invested in kiwitech equipment to set up a precision grazing system last year  we hope to increase grass production and utilise the grass far more effectively. The aim will also to increase the grazing season with out wintering options being considered. By correctly managing the grass and having a grazing plan in place we hope to grow more grass than we previously did when using bagged fertiliser. This year will see our breeding Bulls being grazed and sold off grass targeting growth rates of 1.6kg/day . The majority of our bulls will go on to suckler herds so it is vital that they and their progeny can convert grass efficiently."
Bookings can be made online, farm tour tickets are £30 (inc VAT) for NBA members and £36 (inc VAT) for non-members and are inclusive of all transport and a hot lunch on farm.