Beef Expo 2018 Farm Tours - Marc Jones, Trefnant Hall, Welshpool
13th April 2018
Region: National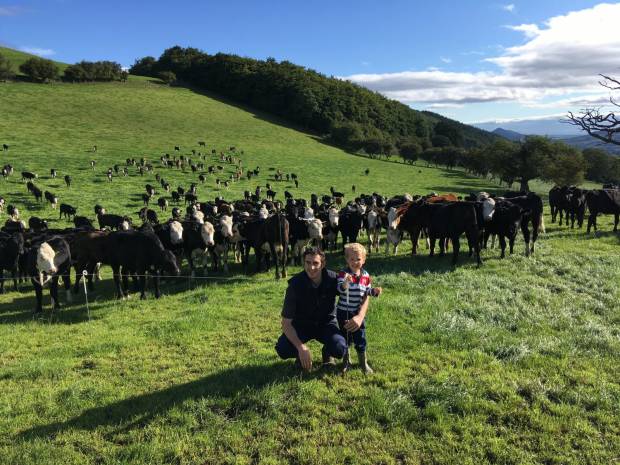 The next farm walk will visit Marc Jones, a farmer who has turned the family's 500 acre tenanted farm from a standard mixed farm reliant on subsidies to a modern profitable system which can survive without them.
Trefnant Hall farm is a 500-acre tenanted farm situated on the Powis Estate which is run by Marc Jones in partnership with his parents David and Jane. Prior to 2009 the farm lambed 1200 Welsh Mules inside in February and kept 120 Limousin cross suckler cows, producing store cattle at 14 months. The system was reliant on housing and concentrates and unfortunately did not achieve profits higher than the single farm payment.
In 2009, Marc took part in the Hybu Cig Cymru Scholarship to New Zealand and came back with new ideas to improve the farms profitability. His aims were to improve utilisation of grass and forage crops on the farm to reduce the cost of production as well as maximising stocking rate and output.
Fast forward 9 years. The sheep enterprise now consists of 800 Lleyn and Romney ewes which lamb outside and are outwintered on fodder beet.
The cattle enterprise has changed dramatically too. Marc now buys in approx. 300 Angus and Hereford calves from Meadow Quality each winter and rears them through to finish at 20-24 months, grazing them through the spring and summer months and out-wintering on fodder beat. The calves are then marketed to Dunbia or through Meadow Quality at 250-320kg dead weight.
A further 450 calves a year are contract reared from 3 to 15 weeks of age for Dunbia. All calves are sourced from Co-op and Sainsbury' dairy farms and are sold on to contract finishers.
The farm has seen a massive turnaround in both output and profitability and now aims to produce 1 tonne of live weight per hectare as well as a profit which is three times the single farm payment.  
Speaking on the changes Marc stated, "Our priority is to utilise grass and forage crops to reduce our cost base, the out wintering of stock and paddock grazing has been a key component of this. We have developed the farm greatly over this period, with the majority of the farm being reseeded, tracks being installed and water and electric fencing infrastructure being put in place. This will hopefully put the farm in a good place with Brexit being on the horizon".
Bookings can be made online, farm tour tickets are £30 (inc VAT) for NBA members and £36 (inc VAT) for non-members and are inclusive of all transport and a hot lunch on farm.