OPEN DAY AND FARM WALK TO GIVE INSIGHT INTO MAXIMISING BEEF MARGINS AND PRODUCTION RESILIENCE
13th September 2019
Region: Midland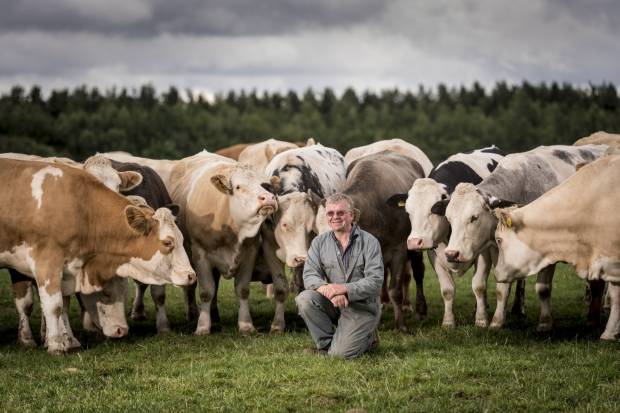 Beef producers will have access to the latest insights into maximising beef margins by investing in production systems based around genetics, health and nutrition, during an open day and farm walk at Williamwood Farm, Warsop Vale NG20 8XR on Monday 23rd September.
Visitors will be invited to tour Ian Willison's Simmental x British Blue suckler herd near Mansfield, Nottinghamshire, and discover how his Autumn-based production system is increasing returns by rearing calves from high EBV bulls.
With gross margins significantly above the English average, Mr Willison will explain how his managed paddock grazing, forage-based system differs from Spring production, with bulls intensively finished on a TMR including maize silage.
Autumn calves go out to grass as the bulls are intensively finished inside to go out at spec at 12 months. The system lends itself to AI, with superior genetics making it a highly cost-efficient production process.
Mr Willison will give a tour of each stage of the production process, giving an insight into his business model, which has seen margins steadily increase over the past five to 10 years.
Following the farm walk, three presentations from keynote speakers will address the latest issues impacting on the beef industry
Kath Aplin, veterinary advisor at Boehringer Ingelheim will deliver a presentation on producing resilient calves, focusing on housing, weaning and vaccinations.
This will be followed by Harper Adams University principal lecturer and beef cattle specialist Simon Marsh, who will present his findings from three trials evaluating the performance of progeny from bulls with different EBVs/indexes.
Proceedings will come to close following a presentation from National Beef Association (NBA) national director and chief executive Chris Mallon, who will address latest policy matters, beef age redefinitions and updates on post-Brexit strategies.
The open day and presentations start from 3pm on Monday 23rd September at Williamwood Farm, Warsop Vale, Mansfield, Nottinghamshire NG20 8XR. Entrance is free of charge, but guests are requested to register their attendance by emailing [email protected]