N & J NEWBOULD & SON, DALBEATTIE, KIRKCUDBRIGHTSHIRE
5th January 2016
Bull beef finishing systems often consist of barns full of dairy Friesian crossbreds, not suckler-bred South Devon cattle. But Scotland-based Richard Newbould is specialising in producing South Devon bull beef, and making a tremendous success of it, too. 
Richard's family moved to Meikle Cloak farm, Dalbeattie, Kircudbrightshire, 26 years ago, and have been finishing bull beef there since 1995. Having relocated from Lancashire, the former dairy farmers used Continental crossbreds for a long time. But Richard introduced South Devon breeding in 2002, when he bought his first South Devon bull. 
"We had been using Limousins and Simmentals, and then kept our own heifers – but you couldn't get anywhere near them when they calved," he says. "They were just so wild, and I wanted something a bit quieter but with the same commercial capabilities."
Having visited Douglas Scott's Grove herd in Gloucestershire, Richard headed off to Perth sales, but missed out on the Grove bull. Instead, he ended up at David Irving's farm near Lockerbie that same evening. "As soon as I saw the bull – Enterprise Americano – in the field, I liked him," he says. "David went out and haltered him, and we loaded him up there and then – I've never seen anything like it."
This bull proved to be a real turning point for the herd. "He left a really good stamp on his daughters – they are all good and fleshy and are now the best in the herd," says Richard. "We thought the bulls would be quite plain, but they've got so much shape and growth; we had the best growth rates we've ever had from his first crop."
That first group of South Devon-sired bulls, finished in 2004, slaughtered nine days earlier than their Limousin x counterparts, with a 35kg heavier carcass weight on average. "That equated to £50 a head at the time – now it would be more like £100 a head; it was amazing."
Since then, the South Devon crossbreds have either matched or exceeded the Continentals on almost every occasion. "You can't separate them on carcass grades – they're almost all Us, with a few Es and Rs thrown in."
Richard uses his South Devon bulls on Limousin x Friesian or Angus x Friesian suckler cows, and is increasingly moving towards a 75% South Devon cross with the resulting heifers. This year he will be calving 90 females, 75 of which are South Devon crosses.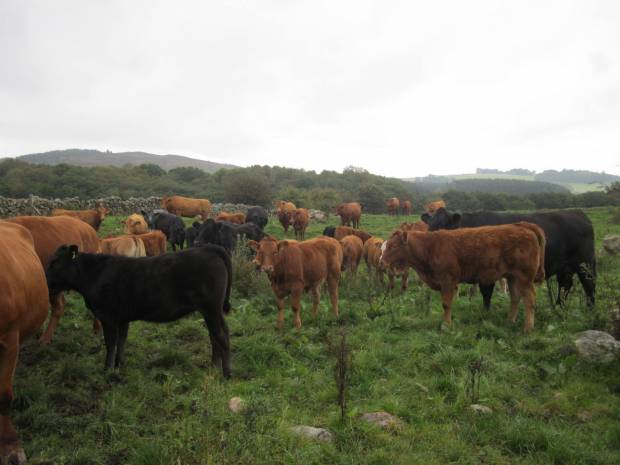 "By the end of next year they will all be South Devon crosses," he says. "Our first South Devon cows are now 11 years old, and I would hope they'll go for another three years yet. We've got one Limousin bull and when he goes, I don't know whether we'll replace him with another Lim or a South Devon." 
When choosing a bull, Richard opts for growth and natural fleshing, using a combination of estimated breeding values and looks. "In 2009 I bought Arncliffe Fothergill, who had very high EBVs, and one of his bull calves was exceptional. It finished at 438 days at 452.2kg deadweight, and graded U4L. The mother went to Agri-Expo for the South Devon stand and had a heifer calf by the same bull this year."
In 2012, eight bull calves sired by Fothergill averaged 0.91kg deadweight gain a day, compared to a herd average of 0.87kg. The whole herd averaged 425 days to slaughter at an impressive 371kg. "It was one of the best years we've ever had."
Richard calves the heifers at two years old from late February until May, with about three-quarters calving indoors before turnout. "When I'm choosing heifer replacements I look at the mother first – you want a cow that grows fast but carries its flesh really well," he says. "They also need to be milky mothers, and have good feet."
The farm is only between 150ft and 300ft above sea level, but the grazing is very rocky, with plenty of harsh weather. "We had 60 inches of rain last year, which is a lot less than we had the year before. But the South Devons cope very well – it doesn't seem to affect them at all."
From August onwards, Richard offers creep feed to all the calves at up to 3kg a head, and then weans them at the end of October when they are loose housed on straw with ad-lib grass silage. The 10-12 heifer replacements are given 2kg of cake over the winter, and grazed over the summer, having gone to the bull from 1 July. Bull calves are kept entire, and fed 5kg of creep feed a day from weaning until January, increasing to 10kg before finishing indoors at 13-14 months old. 
Richard sells any surplus heifers as yearlings, as he doesn't have enough space to finish them all, and sells all the bulls deadweight to ABP at Perth. "They're very quiet – we have to clip some of the bulls that go in April, and they just amble down the race," he says. "The growth rates and carcasses are very comparable to the Continentals, but they are much quieter, so you can breed your own heifers and get daughters from the best cows in your herd. It's been a real success."
Text supplied by Olivia Cooper