Beef, leek & swede Cumberland pie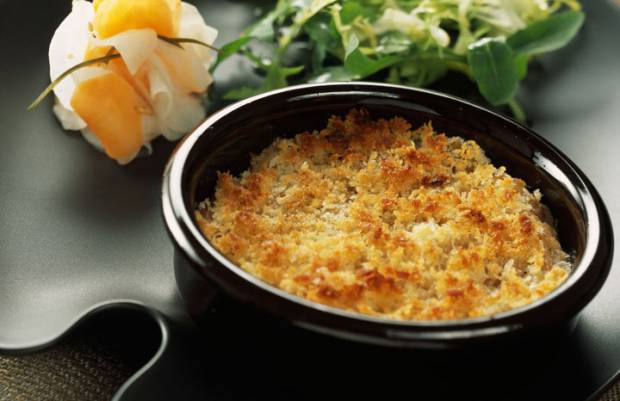 Serves: 6
Prep Time: 45
Cook Time: 3 hours
Ingredients
3 (or 2 if large), leeks white part diced, green part sliced and kept separate
1 large carrot, finely chopped
2 celery sticks, finely chopped
1 tbsp butter
1 tbsp rapeseed oil
or vegetable oil
1kg good-quality beef mince (a little fat adds flavour and tenderises, so try a 10% mix rather than super-lean)
200g unsmoked bacon lardons
3 tbsp plain flour
5 thyme sprigs
2 tbsp Worcestershire sauce
1 tbsp Marmite
1.2l beef stock
For the topping
Method
Heat oven to 180C/160C fan/gas 4. Put the leek whites, carrot and celery in a flameproof casserole dish with the butter, oil and a pinch of salt, and soften, without colouring, over a gentle heat.
Meanwhile, brown the mince in a non-stick frying pan. Cook in batches to keep it brown and avoid it going grey and soggy. If you've used a lean mince, you may need to add a drop of oil. Break up the mince well with a wooden spoon as you go.
When the veg is soft, stir in the bacon lardons, turn up the heat a little and cook until everything is golden. Stir in the mince, followed by the flour, 3 thyme sprigs, Worcestershire sauce and Marmite. Gradually stir in the stock and bring everything to a simmer, then cover and transfer to the oven. Cook for 2 hrs until the sauce is thickened and rich, and the beef tender, removing the lid and stirring in the leek greens halfway through.
While the beef bakes, put the swede and potato into two separate pans. Cover with cold water, bring to the boil, then simmer until tender – about 20 mins. Drain both well, then tip back into their pans over a low heat to steam-dry for a few mins. When both (but particularly the swede) look dry, combine them in one pan with the butter, milk, nutmeg and lots of seasoning. Mash until smooth.
Transfer the mince to individual dishes or one baking dish (or leave in the casserole if you prefer, discarding the thyme sprigs). Cover with the mash, using a fork to fluff up the top. Rub the cheddar into the breadcrumbs with the leaves from the remaining thyme sprigs and plenty of freshly ground black pepper. Sprinkle this mixture over the mash, dot with small knobs of butter, then increase the temperature to 200C/180C fan/gas 6 and bake for 30 mins until golden and crisp on top. Can be made ahead and chilled, or frozen and defrosted. Bake for an extra 10-15 mins until the sauce is bubbling.