Tartare of pan-fried Beef, Parmesan Crumble, Baby Spinach Salad.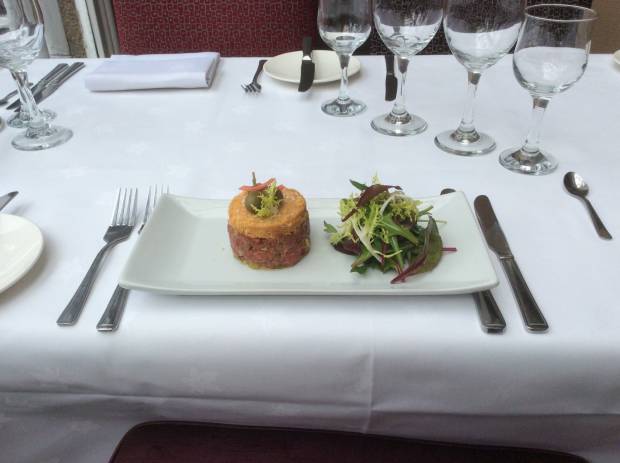 Ingredients
650g filet of beef
30g chopped capers and gherkins
30g chopped onion
50g of chopped herbs (coriander, chives, basil)
10 drops of tabasco
2 tablespoons of marmite or bovril
25 drops of Worcestershire sauce
Salt and pepper
Baby spinach
To dress the spinach: 1tbsp olive oil, 1 tsp balsamic vinegar, salt and pepper – whisked together or shaken together in a glass jar
Tartare sauce
4 egg yolks, beaten
60g Dijon mustard
70ml olive oil
2 tablespoons of ketchup
Salt
Parmesan Crumble
50g butter
50g flour
50g almond powder
50g freshly grated parmesan
Method
Prepare the tartare
Dice the meat into very small cubes, add the chopped capers and gherkins, the diced onions, the chopped herbs, tabasco and Worcestershire sauces, salt and pepper. Mix well together.
Prepare the sauce for the tartare
Beat the egg yolks with a whisk and add the mustard. 
Using the whisk add the olive oil, then the ketchup and seasoning.
Add about 1 and ½ tablespoons of sauce into the tartare
Divide the mixture into 4 and press into four 10 cm metal or plastic rings 
Place in the fridge for 1 hour
Prepare the parmesan crumble
Preheat the oven to 170°C
Mix the butter, flour, almond powder, freshly grated parmesan into a breadcrumb consistency
Sprinkle onto a baking tray and bake for about 10 minutes until biscuit-like
Leave to cool
Final preparation
Remove the tartare steak from the rings and pan fry lightly on both sides for 30 seconds.
Place the steak on the centre of a serving plate
Sprinkle the parmesan crumble on top
Serve with French fries (try good quality oven chips if you don't have a deep fat fryer) and the baby spinach dressed with vinaigrette