Red Poll Cattle Society
The versatile native breed & perfect suckler cow
Hardy. Easy calving. Docile. Naturally polled.
Efficient feed conversion. Economic to keep.
High meat to bone ratio.  Marbled fine grained meat.
Crossed with a beef breed she will produce an extremely well fed calf with the above characteristics.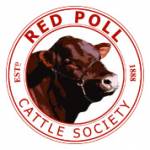 Contact
Ray Bowler
1 Nabbott Road, Chelmsford, Essex, CM1 2SW
Tel: 01245 600032